Jeff T. Gorman, Esq.
Proudly Serving Clients Throughout Stuart
As a dedicated legal representative, Jeff T. Gorman's unique background equips him to provide insightful counsel and guidance to clients facing a wide range of legal matters. From divorce to DUI, he is prepared to handle the most complex cases.
Mr. Gorman relocated to the Treasure Coast just 10 years ago, working for the State Attorney for the 19 th Judicial Circuit. During this time, he gained invaluable experience, handling more felony trials all the way to a jury verdict than any other prosecutor at the time.
After his time there, he left to run for State Legislature back in 2008. At the same time that he left the Office of State Attorney, he began his career as a private lawyer, representing clients facing criminal charges, personal injury claims, and family law complications. Currently, he remains an active member in political organizations in the Treasure Coast.
Growing a Passion for Law
Mr. Gorman's passion for law started while he was studying engineering. Pulled in a different direction, he decided to pursue his legal education, graduating in 1996 with a Bachelor of Science in Economics and a Bachelor of Arts in Political Science from Pennsylvania State University.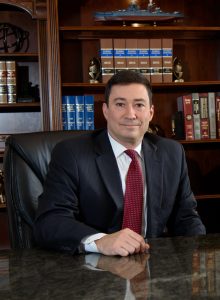 Mr. Gorman worked at a law firm in Washington, DC for three years, handling hundreds of cases across the country that involved the Employment Retirement Income Security Act (ERISA). This allowed him to hone his federal litigation and negotiation skills. Soon after, he moved on to attend the Catholic University Columbus School of Law, during which time he interned for another firm and the U.S. Department of Justice Narcotics and Dangerous Drug Section. He also served as a clerk for the Honorable Royce C. Lamberth, Judge U.S. District Court for the District of Columbia. After graduating, he took on a position at the Office of State Attorney for the 11th Judicial Circuit in Miami, adding more diverse experience to his background.
A few years later, he began work as a felony trial attorney with the Public Defender for the 20th Judicial Circuit in Fort Myers, Florida. Still new in his career, Mr. Gorman had the opportunity to represent an individual accused of first degree attempted murder with a firearm. Though the evidence was stacked against his client, he strategically cross-examined the key witness and victim, revealing many discrepancies and holes in their story. This ultimately led to the acquittal of his client. Over the course of his time as a public defender, he built a strong reputation for providing resilient and aggressive representation for his clients. He then moved on to become a prosecutor, gaining insight on the other side of the courtroom.
Now, as a criminal defense and family law attorney, he is passionate about giving a voice to those who do not have one. Mr. Gorman is not afraid to take on tough cases and always goes above and beyond to secure the best possible results for his clients. With his experience taking countless felony cases to jury verdict, he knows how to obtain a favorable outcome, no matter the charge.
Attorney Jeff T. Gorman is a member of the Florida Bar and is admitted to practice in the United States District Court for the Southern District of Florida.
Read our AVVO Reviews

Saved my life!!
Got my Life Back
Saved me from having a record
What every lawyer should be like