Facing Embezzlement Charges? Get Help From a Lawyer in Stuart Florida and Port St. Lucie Florida Now
White Collar Crime Lawyer Serving Stuart, FL
Embezzlement charges can bring serious penalties, especially when a person's business reputation and standing in a company is at stake. When an individual who has been given responsibility or a level of trust commits a theft against their company, it is considered embezzlement. This could include money, actual property, or any other type of company asset. The value of these assets will also impact the charges.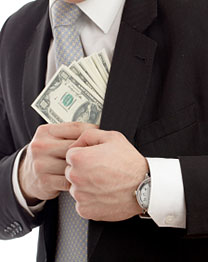 At Jeff T. Gorman Law Offices, we pride ourselves on helping clients protect their futures and restore their reputations. If you have been accused of embezzlement, now is the time to get our firm on your side! With years of legal experience under our belts, we are more than equipped to take on your case. Our Stuart embezzlement lawyer have helped hundreds of clients along the Treasure Coast and can extend the same level of steadfast legal services to your case today.
We are ready to take an assertive and strategic approach to your defense. Reach out to our firm to set up your free consultation!
Penalties for Embezzlement Offenses
When an employee is found to have stolen assets from their company or business, they may be up against serious and life-altering repercussions. This may include spending money from client funds, altering receipts or account data, creating phantom employees, or even underreporting the profits the company has made for their own benefit. Whether their offense is a misdemeanor or felony will depend on the worth of the property or amount of money that was involved in the crime.
In general, an embezzlement charge can bring the following penalties:
$100,000 or more in value: Up to $10,000 in fines and up to 30 years in prison

Between $20,000 and $99,999: Up to $10,000 in fines and up to 15 years behind bars

Between $300 and $19,999: Up to $5,000 in fines and up to 5 years in prison

Between $100 and $299: Up to $1,000 in fines and up to 1 year in jail
Offenders can also face increased penalties for crimes involving multiple parties, specific types of property, and other aggravating factors. It is crucial that you retain a criminal defense lawyer who can advocate for your rights during this time. Even more than just fines and prison time, you could lose everything you have worked so hard to build throughout your career. That is why you need to get our team behind your case.
Contact our white collar crime lawyer in Stuart today if you are ready to discuss your case. Representing clients in Okeechobee, Palm Beach, and the surrounding areas, we are here to help safeguard your name. Fill out a free case evaluation today!



Read our AVVO Reviews

Saved my life!!
Got my Life Back
Saved me from having a record
What every lawyer should be like